Please Read Carefully & Share
Meeting Points For Commercial Vehicles Convoy Around Dublin On Wednesday 24th
?? M1 Services Lusk North & South
Meet For 6AM Leave In Convoy 7AM
?? M2 Ashbourne Retail Park
Meet For 6AM Leave In Convoy 7AM
?? M3 Park Car Park, M3 Maxol & Damonstown Way
Meet 6AM Leave 7AM
?? M4 Kinnegad Plaza Services
Meet 6AM Leave In Convoy 6.40AM
?? M7 Toughers Industrial Estate Naas
Meet 6AM Leave In Convoy 7AM
?? M11 Applegreen Services Wicklow Exit 14
Meet 6AM Leave In Convoy 6.45AM
These Meeting Points are for Truck, Busses, Tractors, Vans and Commercial Vechiles Only !
Pedestrians are to be on Kildare Street for 7 - 7.30 AM
All roads lead to Kildare Street or as far as we can get. When we stop don't move!
Please be as safe as possible and have some consideration for EMERGENCY VEHICLES
Any other Vechicles wishing to join should come from behind each Convoy. I suggest you meet at the Services just before selected meeting points IE ( exit 13 rather than 14)
We will have an A4 sized banner in the next day or so that you can print at home and display on your windows, flags etc.
Hope to see you all there and remember this is a Peaceful Protest ✌ we don't want any trouble or vigilante groups to act up. Stay at home if that's your plans please, it will get us no where only a backlash in the press as usual.
Lastly stay safe and make sure to prepare for the day it's going to be a long day. FOOD,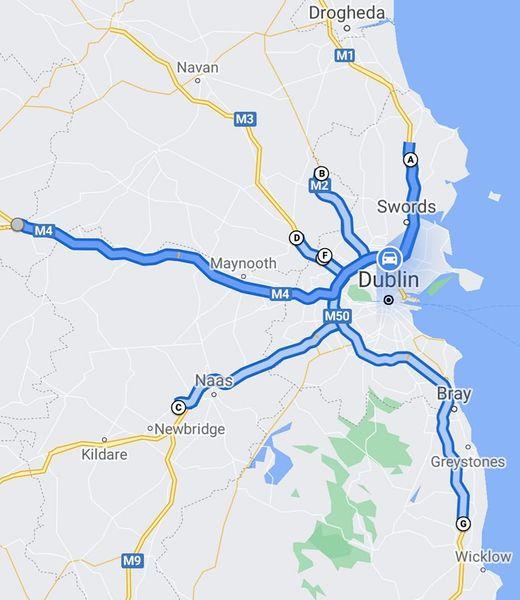 WATER, MEDICATION, HIGH VISIBILITY CLOTHING, WATERPROOFS ETC.
source: Irish Truckers & Haulage Association Against Fuel Prices