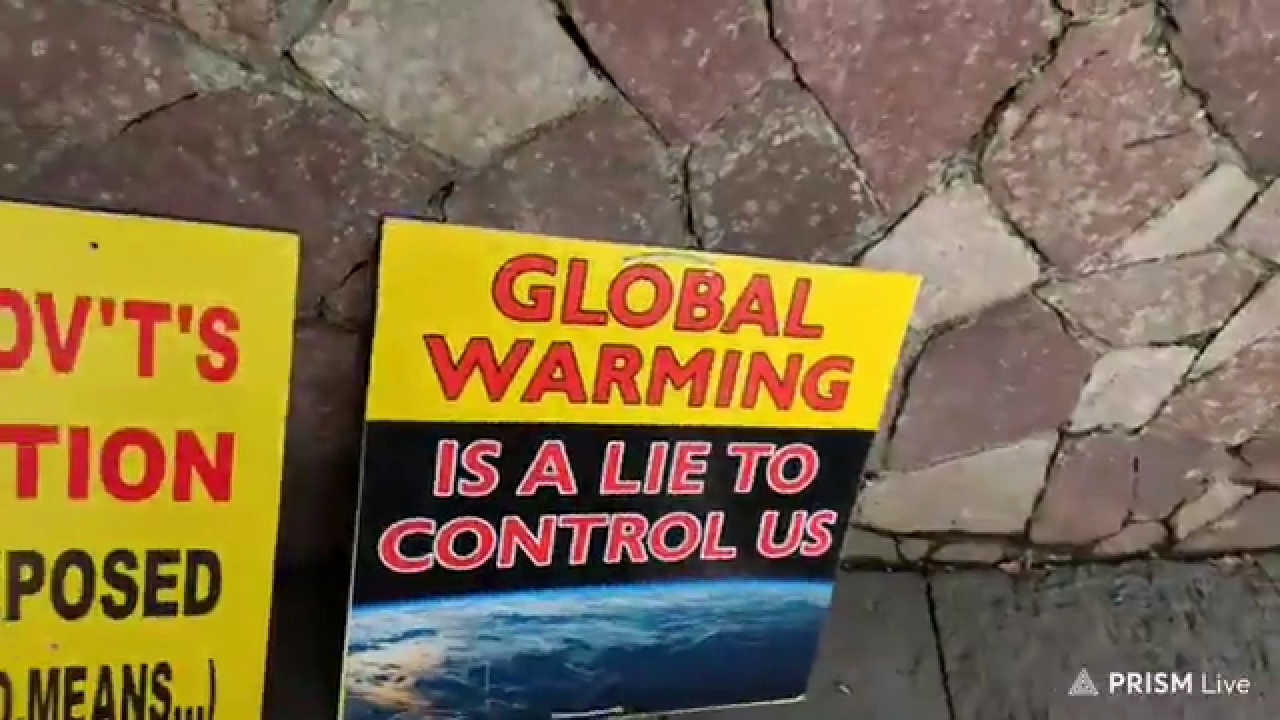 Listen to the article in podcast form
"The 'Hold the Line' leafleting action took place on November 11, 2023, in the city of Ballina on the west coast of Ireland. People with placards lined the streets, displaying clear, concise messages informing about risks associated with vaccines and upcoming civilizational changes
This time, the local team received support from activists of the WakeUpEire group from Dublin. The team arrived in a few vehicles, bringing their own banners and leaflets, which were distributed to pedestrians and those waiting at traffic lights in cars.
Actions of this kind aim to signalize threats and consequences after vaccinations with medical preparations still in the testing phase. The slogans also touched on the dangers of abolishing cash and relying solely on card payments. In addition to the undeniable benefits of such solutions, like the ease of contactless payments and the elimination of the need to carry cash (which is easy to lose), there are consequences of transitioning to a virtual world of money. When paying with card, you receive a unique ID number, making you exist in the system without any privacy when spending your own money. The system administrator can check at any time where, how much, and on what you've spent your money. It's disconcerting that official sources report the system will track the carbon footprint of each transaction and the potential creation of a so-called money with a specific expiration date. If you top up your phone using top-up, you likely know that after payment, you have 28 days to use the limit. After this period, the money disappears, and to make a call from your phone, you must top it up again. There's also the possibility that if you have sufficient funds in your account, you won't be able to spend them because purchasing a product may exceed the carbon limit that each product will have.
In the declarations of cities that joined the 15-minute city actions, there are provisions that residents will be able to go on vacation no more than once every 2 years within a distance of 700 km or buy only one pair of pants per year. Leaflets and signs also contained information about the new WHO treaty, which is expected to be finalized in May 2024. It's worth noting that the WHO is a private agenda where only about 15% of contributions are paid by member states. The rest of the money mostly comes from organizations associated with pharmaceutical companies, such as GAVI or the Bill and Melinda Gates Foundation. If you still don't understand the threat, to make you more aware, I'll add that pharmaceutical companies primarily sponsor projects of doctors who receive large sums but are imposed medicines to prescribe to patients, and, of course, to prescribe them as much as possible because for these companies, it's primarily a business and only then the good of patients. I'll also mention that leaflet materials also include other slogans, such as illegal immigration or teaching children sexual education in schools, along with links to credible sources.
Leafleting actions take place regularly throughout Ireland, and the idea was born during the so-called pandemic, where mainstream media did not show these problems, and if they reported problems, the news was presented in a way that misled people.
Such actions are very much needed as an alternative form of information dissemination. Anyone who wants to participate in these types of events is very welcome and can join them spontaneously without informing the organizers.
In this event, editors from the group http://actioncovid1984.org and https://rpphotojournalist.org were also present, recording the event live on their websites and other social media. Documentation in the form of video interviews and photos was also created from the event.
Information about the location and timing of events can be found on the website https://www.wakeupeire.com."